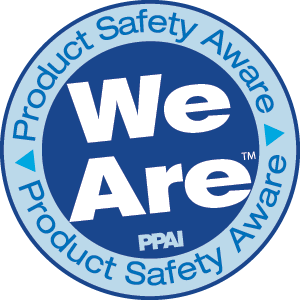 Geiger is a safety and socially conscientious company that has been in operation for over 135 years. We appreciate your business and are taking measures to maintain your confidence and trust in our services. You deserve a company that does the best job of providing proactive, comprehensive compliance solutions.
Geiger has a full-time Product Safety department committed to protecting you and your brand. Our goal is to enhance your brand, not put the reputation of your brand at risk. You can trust Geiger!
What is it…and why should I care about it
When your good name is seen on a promotional product, the only reflection should be positive. It's our job – and our promise – to make sure your brand is kept safe from harm. Our responsibility is to ensure the products that are given to your target audience comply with environmental, social, and product safety regulations.
So, why embrace product safety
Compliance with federal and state regulations is not optional. They are laws that we must follow.
Non-compliance can mean fines, brand harm, and lost customers.
Even worse, non-compliance can hurt people and/or the environment.
Be responsible
Everyone in the product chain (manufacturers, suppliers, distributors) is responsible for providing safe products that are safe for the product recipient.
Working with Geiger
We can assure you have the right product for the right audience. Together, we'll protect and promote your brand with a memorable, engaging, and long-lasting program.
Our 3-part commitment to product safety and ethical sourcing
1. Industry Leadership
Our CEO, Gene Geiger, is the founding chair of our trade association's product safety committee and co-chair of the industry's annual Product Safety Summit.
2. Trusted Suppliers
We vet and work with production partners we consider to be most "trustworthy." We require a signed set of assurance and compliance documents annually in order to be eligible for our preferred lists.
3. Social Compliance
We helped draft and subscribe to our industry's Product Responsibility Code of Conduct. Our production partners have pledged to respect human rights in their workplaces and to adhere to environmental laws.
Even as your customers, prospects, and employees expect the products they receive to be made properly and safe to use, news stories of workplace issues and recalls are as common as they are unwelcome. While our sales partner helps you to choose the most engaging and brandspiring products, we are working behind the scenes to assure those same products are compliant with all laws and regulations.